Allow Us To Present … AODP!
Retail and publishing - of every size and shape - has a future!
The Automatic Ordering and Delivery Protocol (AODP) is an innovative internet protocol that allows you to take the sale of digital sheet music in your own hands. The implementation of AODP opens up new opportunities and brings the sale of digital sheet music editions within reach for you.
AODP facilitates the process of communication between supplier and retailer. Order and delivery of digital products can take place decentrally, automatically and safely via AODP.
With AODP a publisher saves and provides their own master data
The publisher not only has a physical warehouse for their goods, but also something like a "digital warehouse&quot. Therefore they always remain in control of their items and define conditions and the range of products offered.
For retailers AODP makes it easier to get into the digital market
The retailers do not need to manage the technically complicated collection and organisation of digital master data. All this is provided decentrally by the publishers (or suppliers). Thus, publishers and retailers remain mutual business partners as usual.
AODP and its security technology are integrated into the IDNV
AODP and its associated security technology are already integrated in the IDNV from version 3.0 onwards. Thus, you can expand your current offerings without insurmountable financial or technical obstacles. With the well-known and proven IDNV software as a basis, the initial step into the field of media management and sale of digital goods via AODP is facilitated for all parties involved.
This is what AODP in combination with the IDNV offers you:

Do it yourself instead of giving control over to third-parties

Supplement your assortment of goods with digital items

Do business together in a decentral industry network

Actively shape the future of the sheet music industry
In this way, by using AODP a new and long-term business perspective can emerge for all actors in the sector.
Discover your personal opportunities with AODP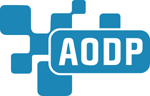 For publishers, we offer appropriate software for the AODP hosting as well as complete hosting solutions. The over the counter trade can directly take part in digital sales with IDNV-Order. In a first trial phase, AODP will be integrated the IDNV software and thus be available for publishers and retailers using the IDNV-system. In the future, a direct link between online shops and AODP (independent of the IDNV software) will also be a possible option for AODP users.
Request your personal quotation
Contact us for an individual quotation via idnv@idnv.net or take a look at our IDNV services for the usage of AODP for publishers or retailers.